Explore the infinite design options available to create your Bespoke Shirt
Each bespoke shirt is a unique creation based on your wishes and your personality. We pay close heed to your needs while advising and guiding you through the myriad of possibilities available to you to create bespoke shirts that truly live up to your expectations.
MEASUREMENTS
Taking your measurements allows us to provide you with a garment that fits you perfectly. Indeed, more than 10 measurements points are required to create a unique pattern designed exclusively for you. Those measurements will then be used to cut and craft each of your bespoke shirts.
This process enables us to meet the initial criteria required for shirts to be considered Bespoke and represents the highest level of personalisation of shirt making know-how.
TOILE (MOCK-UP)
The toile is a crucial and highly recommended step prior to bringing together your bespoke shirt using the fabric of your choice. It enables the master shirtmaker to get a feel for how the measurements will sit on the fabric and modify your shirt pattern accordingly, in order to craft a garment that fits you perfectly. The creation of a toile (mock-up) is also strongly recommended as to avoid modifications to bespoke shirts made from the finest quality fabrics.
OUR FABRICS
We keep a broad range of the finest fabrics made by manufacturers renowned for their thoroughness and exceptional quality.
The selected fabrics originate exclusively from Switzerland, Italy, Great Britain, Spain and Portugal.
You can choose from a wide range of prestigious suppliers including the following Maisons:
Alumo Fabrics
Bonfanti Tessuti
Carlo Riva - Fermo Fossati 
Tessitura Monti
Loro Piana
Acorn Fabrics
Liberty Fabrics
Canclini Tessili
Somelos Tecidos
OUR COLLARS
Collars are the most visible part of a shirt, the combination of the selected fabric and the collar design being of fundamental importance to the spirit of your garment. We have developed over 15 types of collars to suit all customer measurements and styles. These include the quintessential French collar, Italian "cutaway" collar, American "bouton-down" collar, British "tab" and "pin" collar or the wingtip collar among many others.
All our collars can be personalised down to the minutest detail. Length of the points, collar stand height, angle of opening, stays and interlining are some of the elements that need to be defined. We also craft unique collars based on your specifications and instructions to provide you with an entirely personalised garment.
Collar stiffness
To provide the finishing touch to your bespoke shirts, we have a dozen different interlinings. Those can be loose or fused, thus resulting in collars that present varying degrees of stiffness.
Stays
Stays are rigid pieces of metal or plastic that can be used to add rigidity to collars. You may choose between removable stays – the option we recommend - fixed stays or stayless collars. The latter is the preferred option for more sporty shirts and is used by default for American collars.
OUR CUFFS
We have more than 15 kinds of cuffs: classic, round, bevelled, square, Neapolitan, French or musketeer cuffs. Some may be made with two buttons or can be adjustable. Cuff length can be personalised. The circumference can also be wider on one of your sleeves to take your timepiece into consideration.
Lining
The lining is usually made using the same material as the collars and cuffs themselves. However, you may further customise your bespoke shirts by selecting a different fabric for certain parts:
- Inside of the cuff
- Inside of the collar
- Neck foot
- Under-collar
- Inside of the neck foot
- Inside of the placket
Buttonholes
We usually sew you buttonholes using the same colour thread as your shirt. However, should you want contrasting buttonholes, we can use the thread colour of your choice.
Embroidered initials
We can also on request ornate your bespoke shirts with a monogram. The latter is handsewn and can be chosen from different fonts.
OUR BUTTONS
We have a wide selection of buttons crafted from high-quality natural materials. Our mother of pearl buttons originate from Australia and Tahiti. We also have buttons made from horn, wood or corozo (vegetable ivory). The latter are interesting alternatives to conventional mother of pearl buttons and enable you to add a one-off touch to your bespoke shirts.
PLACKETS AND BIB-FRONTS
Plackets and bib-fronts define the spirit of your shirt, in the same way as the collar and type of fabric you use. Depending on the style sought for, we will help you create your Revenga bespoke shirts:
Classic shirts
We recommend the french front, which is a front without a placket, being de facto more sober and minimalistic. This refined and elegant option is the one we recommend for dress shirts.
Casual shirts
We recommend the front placket as well as the popover placket which is a popular summery model. A french front can of course be used if you would like a shirt that is suited to all occasions.
Tuxedo shirts
You can opt for a french front with buttonholes adapted to accommodate "studs", the covered placket (fly front) has a more sober style. Finally, you can also select shirts with long or short bibs with studs or a covered placket. Our bibs are made from pique cotton or pleated cotton manufactured in Switzerland.
BACKS
A bespoke shirt is by definition created based on your measurements. However, we regularly carry out certain adjustments with the aim of crafting a shirt with a tighter fit or offering greater ease of movement.
Shirts made without pleats or tucks are the most basic. They are easier to iron and are perfectly suited to slim or straight cuts.
Shirts with two pleats or a single central pleat offer extra freedom of movement. According to us, the central pleat is better suited to more casual shirts.
Finally, should you want a slim cut, we recommend opting for a back with two tucks so as to create a perfectly fitting shirt.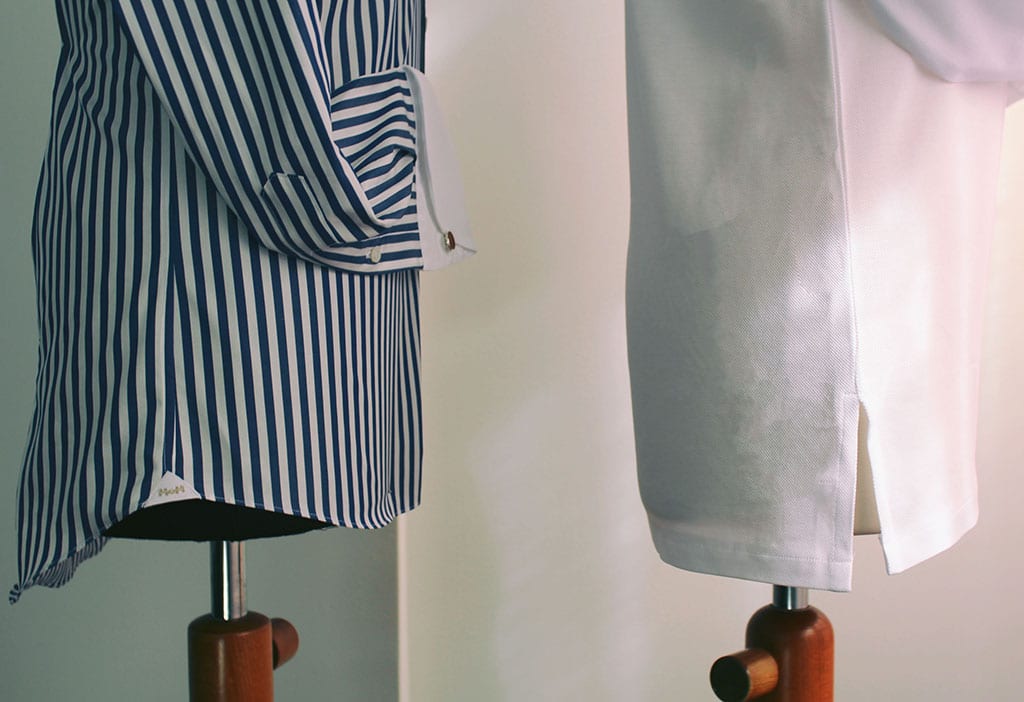 SHIRT BOTTOMS
The rounded hem is best for shirts worn tucked into trousers. Reinforcement hem gussets of various shapes are often used.
Straight hems are recommended for longer shirts to avoid them coming untucked from the trousers. However, they are less comfortable than rounded hems.
Hems with side-slits can be worn tucked into trousers, or outside if the shirt is shortened. Nonetheless, without wanting to sound proselytic, we believe shirts look best tucked in.